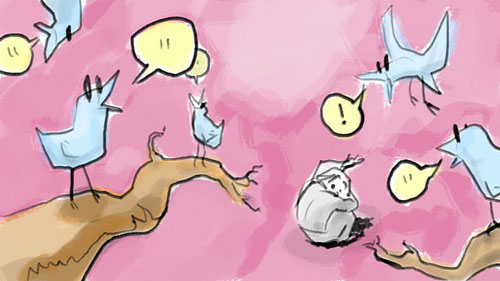 By the time Twitter had grabbed the mainstream media's attention, there were already a number of sites that were trying to copy it.
They were just like Twitter, only worse!
The same happens every time a new site or service becomes successful.  Sites trying to be "just like" the original pop up, and usually pop back down again pretty quickly.
It's hard to come up with something truly original.  After all, there were services just like Twitter before Twitter came along.  The thing was, Twitter was "just like" them – only better.
Be yourself – Be better

This blog is just over a week old and is already picking up a lot of readers; partly because it is not trying to be the "just like" something else.  I am hoping to build a site full of unique material, which people will find valuable enough to want to read, use and share.  The blog is already developing it's own personality, which will become increasingly apparent as we go through the coming weeks and months.
It makes little sense to start out trying to be just like another well known site or service, unless you are well resourced and can be just like them, only better.
Otherwise, I strongly recommend you focus on being the very best YOU that you can be.  Pull influences from the best, but make your site your own and something uniquely valuable.
Just a thought!